Abgesagt
Bisheriges Datum:
Ilira
Queer Festival 2020 &nbsp
Am Karlstor 1
69117
Heidelberg
Event organiser:
Kulturhaus Karlstorbahnhof e.V., Am Karlstor 1, 69117 Heidelberg, Deutschland
Die Veranstaltung wurde abgesagt.
Event info
ILIRA is pop's best kept secret. With her inimitable vocal acrobatics and a range that spans over 4 octaves, the Albanian export currently has 2 million monthly listeners on Spotify. Triggering a bidding war among labels, ILIRA released her first single in the summer of 2018, and has since been on an unstoppable journey to worldwide pop domination. Her hit collaboration "FADING" has reached #1 on the German Airplay Charts, and is multi-platinum certified. A pop princess par excellence, her glittery yet urban signature sound combines playful pop melodies with clever lyricism. In 2019, ILIRA was nominated for an MTV EMA. She currently splits her time between Berlin, London and Los Angeles to work on her debut album. Bursting with unapologetic vibes, ILIRA is best known for confident self-empowerment songs such as "GET OFF MY D!CK", which cracked the Top 50 Viral Spotify Charts in the US & UK, and "DO IT YOURSELF". Her new single ROYALTY is out now! 
Location
Kulturhaus Karlstorbahnhof
Am Karlstor 1
69117 Heidelberg
Germany
Plan route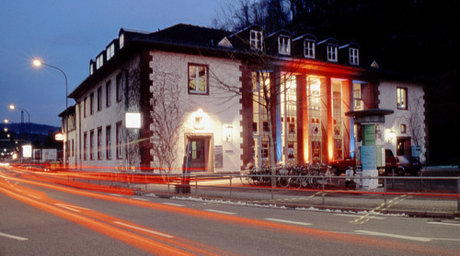 Der Karlstorbahnhof in Heidelberg gehört zu den wichtigsten Kulturangeboten der Region. Kino, Theater, Konzerte und Kleinkunst finden sich in den Räumlichkeiten des alten Bahnhofgebäudes ein. Und das Programm lockt jährlich 100.000 Besucher zum Kulturzentrum.

Erst 1995 gegründet, gehört das Kulturhaus Karlsbahnhof zu den jüngsten soziokulturellen Zentren Deutschlands. Und dennoch ist es national und international hoch angesehen. Grund hierfür ist das breitgefächerte Angebot. Verschiedene Vereine haben sich unter dem Dach des Bahnhofs zusammengefunden, um Kunst und Kultur aus aller Welt nach Heidelberg zu bringen. Und nun darf man sich seit geraumer Zeit auf Konzerte, DJ-Events und Kabarett-Kleinkunst-Comedy-Veranstaltungen freuen. Hinzu kommen Sprech- und Tanztheater, sowie ein Filmprogramm fernab des Hollywood-Mainstreams. Diese Mischung aller Kunstformen macht den Erfolg des Kulturzentrums aus.

Der Karlstorbahnhof Heidelberg besticht durch tolles Ambiente und auserlesenes Programm. Durch die vielen verschiedenen Veranstaltungen ist für jeden zu jederzeit etwas Passendes dabei. Kommen Sie vorbei und überzeugen Sie sich selbst!